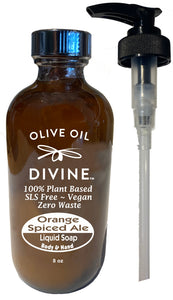 Orange Spiced Ale Liquid Soap
Regular price $15.99 Sale
8.0 Ounces

A classically nostalgic scent; A warm and inviting blend of Oranges, Lemons, Apple Cider, and Cranberries. This bar is infused with natural essential oils, including Orange, Cedarwood, and Buchu.
Our Liquid Castile Soap is made with Organic Oils, Organic Aloe, Distilled Water, Potassium Hydroxide & Citric Acid. Coconut Oil for cleaning and lather. Sunflower and Olive Oil for a gentle feel and Castor for the extra fluffy bubbles. The addition of Organic Aloe adds a soft & hydrating finish. It is also considered to be an all-purpose soap, and can be used as an overall body cleanser, a laundry detergent, and even a hard surface cleaner when diluted. Comes in an 8oz. glass pump bottle.
Plant Based | EcoConscious Packaging | Mindfully Crafted
Ingredients: Distilled Water, Organic Sunflower Oil, Organic Coconut Oil, Organic Extra Virgin Olive Oil, Organic Castor Oil, Organic Jojoba Oil, Vitamin E Oil, Organic Hempseed Oil, Potassium Hydroxide, Citric Acid, Fragrance Oil and Organic Aloe.
**Nut allergy warning: Products are manufactured in a facility that also uses Tree Nut Products.
Disclaimer: Always discuss with your medical practitioner before using any natural products, or essential oils. This product is not intended to diagnose, treat, cure, or prevent disease. Color, Transparency, and Viscosity may vary due to essential oil content and temperature fluctuation.